This page offers explanatory information on the Lymphatic System and the diagnosis of Lymphedema and how important Massage as one of the National Lymphedema Network's 'Standards of Care & Precautions' is to prevent the condition from worsening. I have completed their approved program of140+ hours and am a Certified Lymphatic Therapist able to perform MLD/CDP including lymph rerouting patterns and compression bandaging.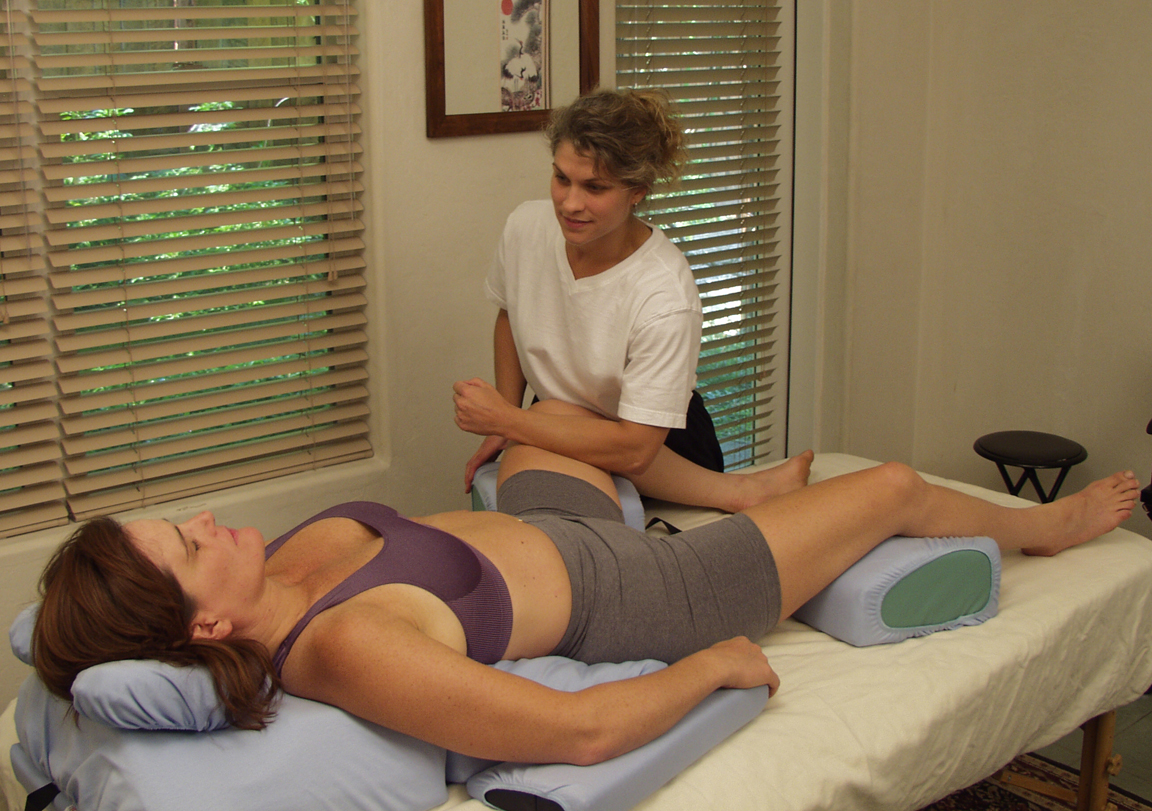 The Manual Lymphatic Drainage/Complete Decongestive Physiotherapy (MLD/CDP) massage session is performed in a private, relaxing setting with use of the body cushion for maximum comfort, support, and elevation. The massage is extremely gentle and rhythmic. Instruction is also provided so you can continue the positive results on your own. After one session, you usually feel and most likely see the difference in the reduction of swelling.
WHAT ARE THE FUNCTIONS OF THE LYMPHATIC SYSTEM?
It is an 'open loop' system (unlike the circulatory system which is a 'closed loop') that absorbs the excess fluid (lymph) that spills out from the tiny blood vessels at the capillary level in the tissues.
Lymph, which is rich in white blood cells (WBC) for immunity and 'proteins' for fluid balance in the body, is designed to cleanse the tissues of harmful cells, bacteria, virus, etc. as it goes, eventually joining the circulatory system at the vena cava near the heart.
Along the way, lymph flow assists in the digestion of fats in the intestines.
When harmful cells are detected by the filtering 'nodes', more WBC's are sent to those tissue sites, through the blood stream, to destroy the harmful cells.
The 'proteins' act as little sponges, attracting more fluid. When absorbed by lymph vessels, they maintain a healthy balance of fluid and pressure in both the tissues and cardiovascular system. Nonetheless, protein build-up in the tissues, due to impaired lymph flow, can be life threatening.
'Proteins' also can trigger an inflammatory response and the side effects of pain, swelling, and scar tissue.
WHERE ARE THE LYMPHATIC VESSELS AND NODES?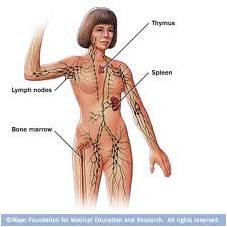 All over the body: superficial lymphatic vessels begin as hairlike structures at the skin level collecting the excess fluid from the tissues; deep lymphatic vessels run parallel to the main blood vessels and are up to 2 mm thick.
The hairlike superficial vessels converge into slightly larger vein-like vessels. These go through filtering sites called 'nodes', then join into a larger duct to finally renter the blood through a junction with the vena cava near the heart.
600-700 oval nodes in the body (2-3 mm):
* 200-300 in abdomen, intestines, organs, & blood vessels * 100 in the neck and head
* 50-60 in each inguinal (groin) area
* 30-40 in each axilla (armpit) area
WHAT STIMULATES THE LYMPHATIC SYSTEM?
Peristolsis (gut action) = get up and moving
Respiration (breathing) = especially deep belly breathing
Muscle Contraction = exercise, rebounder, isometric, etc.
MLD = 'drain ditch', 'rinse vacuums', 'clear paths', 'close paths/vacuums'
Compression = bandaging, garments, water activity, elevation
WHAT IS LYMPHEDEMA AND HOW CAN I DEVELOP IT?
Accumulation of lymph fluid in the tissues causing chronic swelling (6+ mo)
Primary/Congenital (early and late onsets)
Secondary/Mechanical (lymph function is compromised)
* #1 cause in U.S. is cancer/chemotherapy; radiation increases risk
* no lymph node removal < 10% chance
* sentinal Biopsy = 14-17% chance
* ½ node removal = 25-50% chance
* all nodes removed = 40%+ chance
Once developed, LE is a chronic condition which must be managed for life
Can develop at any time during your life
PREVENTION IS THE KEY!!! NATIONAL LYMPHEDEMA NETWORK (NLN)
Research findings that 1-3 sessions of MLD/CDP with education in self massage, skincare, and compression bandaging can decrease risk of incidence
NLN promotes these Standards of Care & Precautions:
1. Skin Care and Education
2. Manual Lymphatic Drainage and Self Massage
3. Compression Bandaging and Garments
4. Exercise
5. Diet/Nutrition (low fat & salt, high fiber & protein, lots of water)
Receive help and relief and 'Feel the Difference'! Schedule the massage session!!